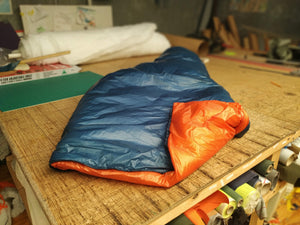 TRG SynQuilt 4 Season
Sale price Price $312.00 Regular price
The TRG SynQuilt 4 Season is a synthetic sleeping quilt.
With the improvements in materials over the last few years I've personally made the switch from down to synthetic in all of my gear. This was entirely for the ethical reason of sourcing down as well as the constant moisture management battle to keep my down gear from wetting out and becoming useless. Classic story heard many times over.
Approx temp limit of - 10c
Features:
The quilts are kept as simple as possible. The length is determined your height so the quilt can be pulled above the head in the absence of a hood. There is a round bottom foot-box with no through seams to avoid cold spots. At the top there is a single elastic drawcord used to cinch the edge and create a curve or contour that fits around your shoulders and neck.
Shell fabrics will be the as light as I can source and that I deem strong enough to take the abuse of adventure. Usually 10- 15 denier fabrics are great and can take the punishment of many seasons of adventure.
Insulation material is the key of course and I have selected Climashield apex. This is a incredibly lightweight and durable insulation that makes a wonderful sleeping quilt.
Temperature ratings are a very personal thing with so many widely varying factors such as whether you're a man or a woman, type of shelter being used, what you are wearing and also what you had for dinner (metabolism).  Please allow these to factor into your decision.
7.5 Oz Fill, 855g including stuffsack
Standard Suits up to 190cm Height
Tall bags can be made to order.
If you would like a bag shortened for you or your child, please make a note and we will contact you.