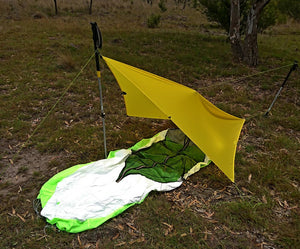 TRG Tarp Mini
Sale price Price $78.00 Regular price
The Mini Tarp is a great pocket sized tarp for use with a bivy or sleeping cover or maybe the dog or covering gear at camp. Perfect for the fastpackers and bikepackers how just want the most minimal of shelters.
Size:  150cm x 150cm
Weight: 130 grams
9 Tie outs.  4 corners, 4 sides, one central panel pull and an internal hang loop.