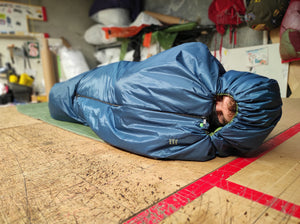 TRG SynBag 3
Sale price Price $595.00 Regular price
During the covid Lockdowns of 2020 this sleeping bag idea was a wonderful mindful escape to dream of adventures to come.
I am excited and proud of what has come together.
The TRG SynBag is a center zip, hooded, circular footbox, relaxed mummy sleeping bag. 
The center zipper has 3 pull tabs for options like venting,using quilt style and the use of hands while draped in the sleepingbag so not to loose body warmth. For example while cooking in the tent vestibule.
The hood is sized well to allow for opening on warmer nights and cinching down when the temperature drops.
The circular footbox and relaxed mummy shape allow for a non restrictive fit and importantly laying. 
Specs:
Outter shell- 20d EcoPolyester (100% ♻️) 
Insulation- 5oz Climashield Apex
Inner Shell- 10d taffeta nylon
Weight- 770g (allow for slight variation with insulation and size selected)
Temp ratings- 3 season 0°C ish (many factors in play for rating)
Layering:
The SynBag is a wonderful standalone sleepingbag with the clever additions of items (hint watch  this space) will create a much warmer sleep system. For example this will fit the SynQuilts and other like items already owned. Down bags and quilts will benefit from the outter later of synthetic insulation in the condensation and moisture managment game.